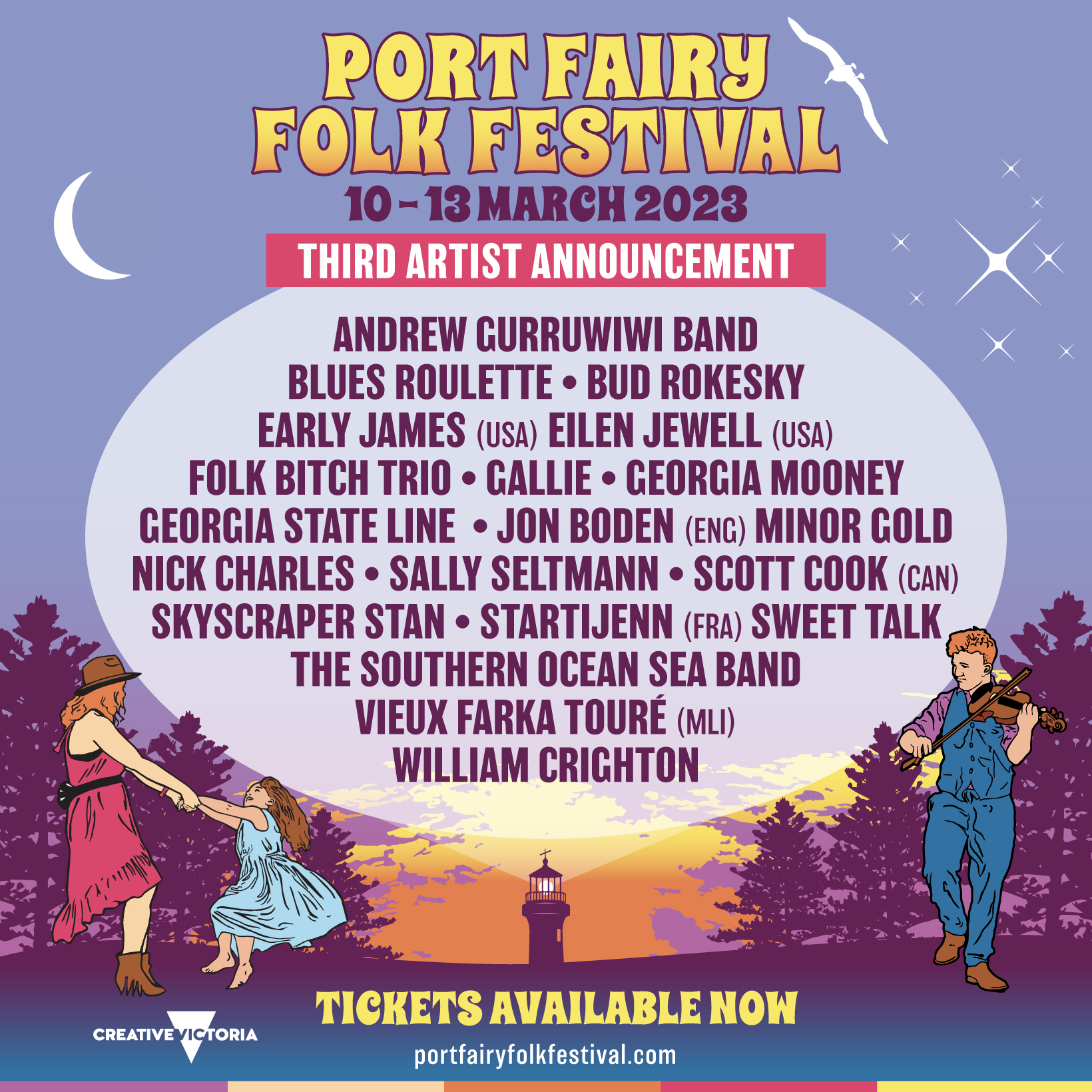 third line-up announcement for port fairy folk festival 2023
Andrew Gurruwiwi Band | Blues Roulette | Bud Rokesky | Early James (USA)
Eilen Jewell (USA) | Folk Bitch Trio | Gallie | Georgia Mooney | Georgia State Line
Jon Boden (ENG) | Minor Gold | Nick Charles | Sally Seltmann | Scott Cook (CAN) 
Skyscraper Stan | Startijenn (FRA) | Sweet Talk | The Southern Ocean Sea Band 
Vieux Farka Touré (MLI) | William Crighton
Port Fairy Folk Festival keeps getting bigger in 2023!
Today we announced the third artist line-up for our 2023 Festival over the long weekend 10-13 March. Following our incredible first and second line-up announcements, the artists in this third release now join a superb line-up of folk artists that includes :
19-Twenty, Ajak Kwai, Anna Smyrk, Baby Velvet, The Badloves, Billy Bragg (USA), Blue Moon Marquee (CAN), Claymore, Colin Lillie, Dani Larkin (IRE), Eastbound Buzz, Eric Bibb (USA), Gina Williams & Guy Ghouse,  Grigoryan Brothers, Ian Noe (USA), Inn Echo (CAN), John Smith (ENG),   Josh Pyke, Judy Collins (USA), The Langan Band (SCO), Liz Stringer, Mary Coughlan (IRE), Niamh Regan (IRE), Norwood, Rebecca Barnard and Peter Farnan perform the music of Joni Mitchell, Steve Poltz (USA),  Tim Easton (USA), The Waifs, and While and Matthews (ENG).
We are seeing unprecidented demand, and general release tickets are flying out the door.  Be sure to secure yours today!
The Port Fairy Folk Festival has been made possible with the support of the Victorian Government's Live Music Restart Program.
Click here to view the full line-up so far.
.