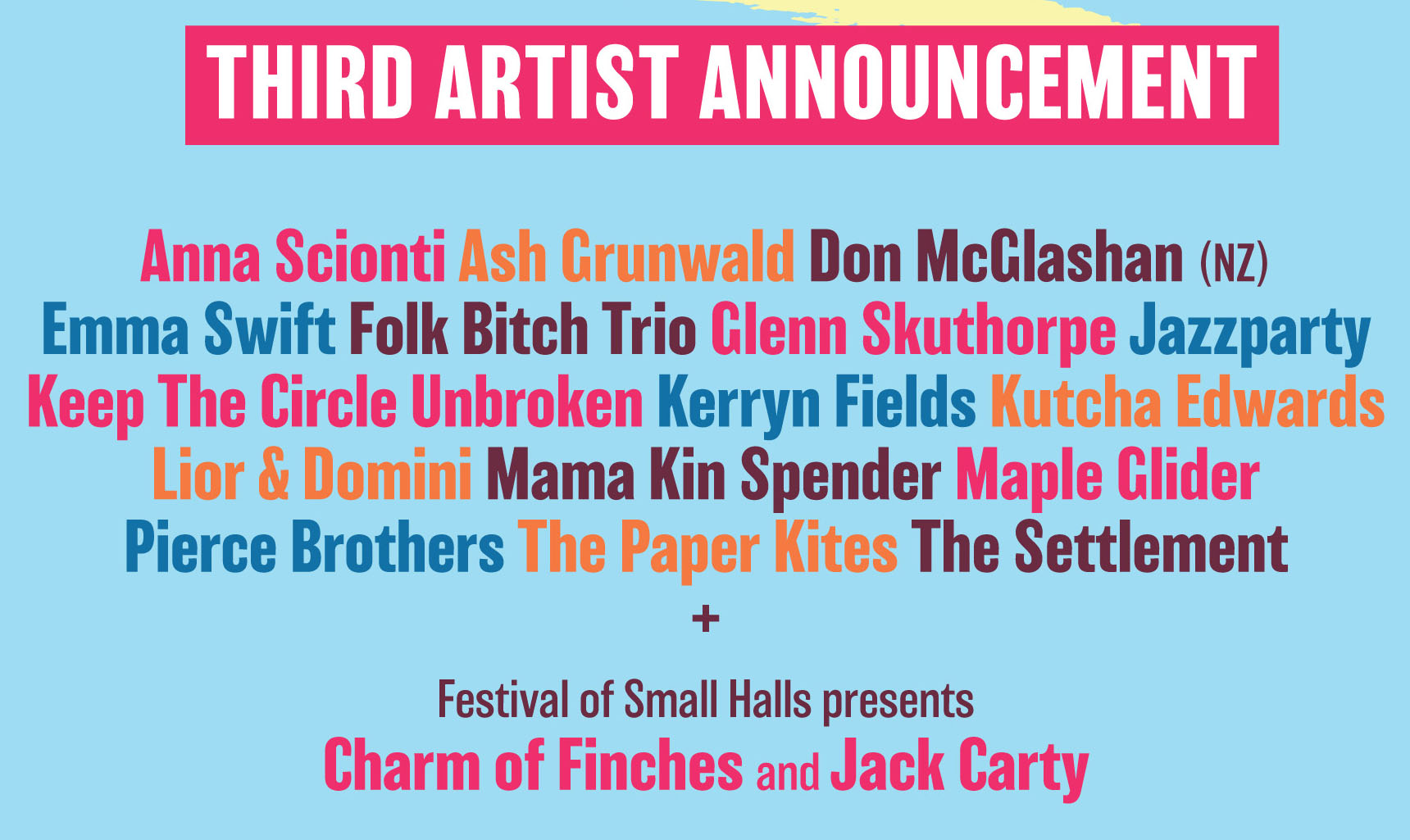 THIRD ARTIST LINE-UP ANNOUNCED
PORT FAIRY FOLK FESTIVAL ANNOUNCES THIRD ARTIST
LINE-UP FOR 2022 EVENT
Anna Scionti | Ash Grunwald | Charm of Finches | Don McGlashan | Emma Swift | Folk Bitch Trio Glenn Skuthorpe | Jack Carty | JAZZPARTY | Keep The Circle Unbroken | Kerryn Fields | Kutcha Edwards | Lior & Domini
Mama Kin Spender | Maple Glider | Pierce Brothers |The Paper Kites | The Settlement
Port Fairy Folk Festival returns to the iconic seaside village on the long weekend in March 2022, delivering a huge line-up of artists including homegrown Australian and New Zealand talent set in the surrounds of the mighty Southern Ocean.
Anna Scionti, Ash Grunwald, Charm of Finches, Don McGlashan, Emma Swift, Folk Bitch Trio, Glenn Skuthorpe, Jack Carty, JAZZPARTY, Keep The Circle Unbroken, Kerryn Fields, Kutcha Edwards, Lior & Domini, Mama Kin Spender, Maple Glider, Pierce Brothers, The Paper Kites and The Settlement will join the line-up featuring Baby et Lulu, Bob Evans, Courtney Marie Andrews, Elephant Sessions, Emily Barker, Emma Donovan & The Putbacks, Ernest Aines, Fiona Ross & Shane O'Mara, First Nations Voices, Gordon Koang, Heartbrokers, Jordie Lane, Kee'ahn, Leah Senior, Liz Stringer, Maubere Timor, Nadia Reid, Robyn Hitchcock, Rudely Interrupted, The Bushwackers, The Thin White Ukes, The Weeping Willows, Tracy McNeil & The GoodLife, Tuck Shop Ladies, Van Walker & The Ferriters, Watchhouseand Weddings, Parties, Anything for the 45th Port Fairy Folk Festival in March.
The 45th Port Fairy Folk Festival will take place in Port Fairy, Victoria from 11-14 March 2022. Tickets available now. Visit portfairyfolkfestival.com to book your Port Fairy Folk Festival adventure.
In line with the State Government of Victoria's health policy, all persons attending the Port Fairy Folk Festival site leading up to and during the main event in March 2022 will be required to be fully vaccinated or possess a certified medical exemption. Ticket holders, artists, volunteers and contractors will need to provide proof of full vaccination upon entry to the Festival. Any person who has purchased a ticket to the 45th Port Fairy Folk Festival in March 2022 and who chooses not to be vaccinated, can apply for a refund up until the 30 November 2021.