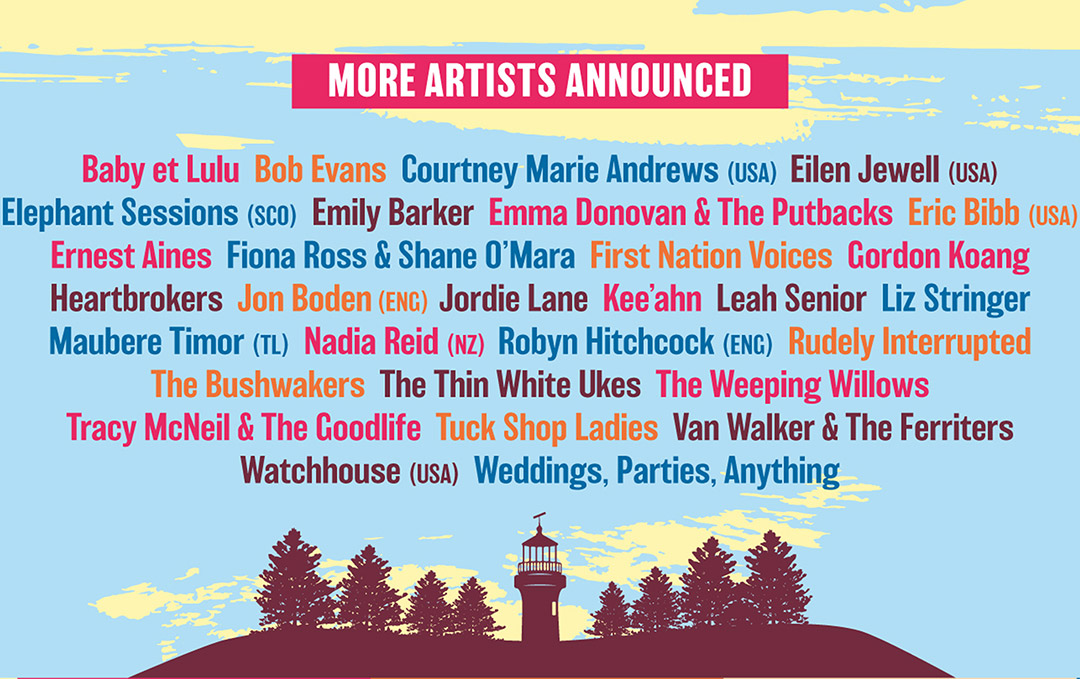 SECOND ARTIST LINE-UP ANNOUNCED

Port Fairy Folk Festival today announced a fresh second artist line-up for its major comeback event in the sensational music-loving seaside village in March 2022.
With new and returning artists set to embark on their Port Fairy adventure, the 45th Folk Festival event will celebrate songwriters and storytellers performing alongside up and coming folk stars.
Port Fairy Folk Festival program director Justin Rudge said the second line-up was refreshing to announce following Victoria's latest lockdown.
"What an honour to be able to confirm this fantastic line-up for our 2022 Festival! Next March we will be presenting true festival favourites, incredible songwriters and showstopping emerging artists who will go on to be the future of folk music around the world.
"I'd like to thank the Port Fairy Folk Festival team and our wonderful volunteers, alongside the artists, agents and managers, for working so hard together to bring this collective of talent for the return of our iconic Folkie in 2022. We cannot wait to celebrate live music in our beautiful seaside village with our loyal audience and newcomers alike in March," said Justin.
Bob Evans, Emily Barker (UK), Ernest Aines, Fiona Ross & Shane O'Mara, First Nations Voices, Gordon Koang, Jordie Lane, Leah Senior, Liz Stringer, Maubere Timor (TL), Nadia Reid (NZ), Robyn Hitchcock (UK), Rudely Interrupted, The Bushwhackers, Heartbrokers, The Thin White Ukes, The Weeping Willows, Tracy McNeil & The GoodLife, Tuck Shop Ladies, Van Walker & The Ferriters will join the line-up featuring Eric Bibb (US), Kee'ahn, Emma Donovan & The Putbacks, Courtney Marie Andrews (US), Eilen Jewell (US), Weddings Parties Anything, Elephant Sessions (US), Jon Boden (UK), Baby et Lulu, and Watchhouse (US) for the 45th Port Fairy Folk Festival in March.