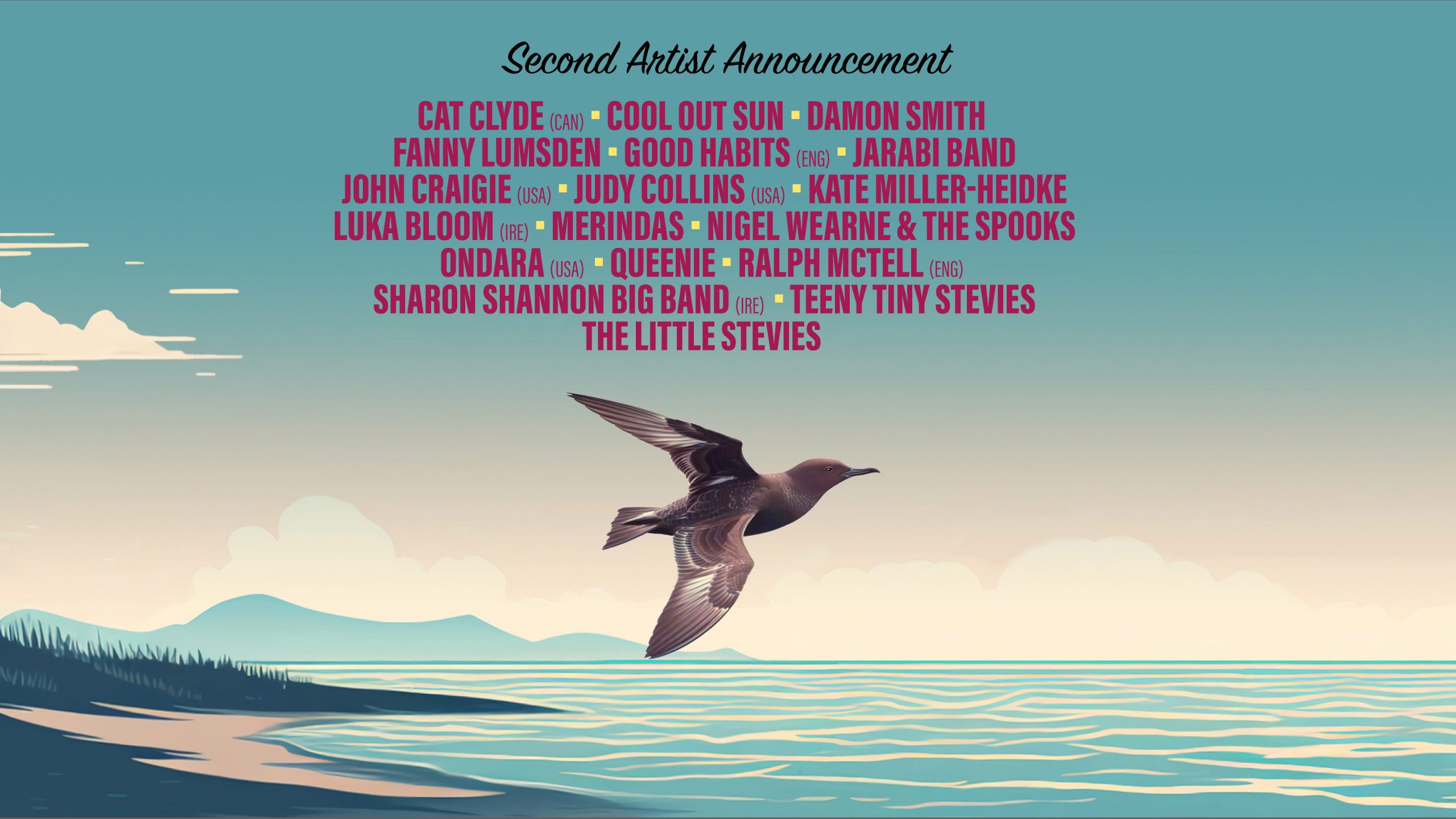 More Artists announced for 2024
Port Fairy Folk Festival today announced more artists for its vibrant seaside event over the March long weekend.
Joining the bumper line-up set for 2024 is a run of international first-timers-to-Australia JOHN CRAIGIE and ONDARA from the USA, GOOD HABITS from England and CAT CLYDE from Canada who will play alongside festival favourites, JUDY COLLINS, RALPH McTELL, LUKA BLOOM and SHARON SHANNON with her Big Band who return to Port Fairy.
The Festival is honoured to be celebrating female vocal powerhouses KATE MILLER-HEIDKE, FANNY LUMSDEN, QUEENIE and THE LITTLE STEVIES, along with THE TEENY TINY STEVIES who will each be sharing new music with Folkies of all ages!
Shaking things up for evening entertainment will be hip hop reggae masters COOL OUT SUN and dance-pop queens THE MERINDAS, alongside the Americana sounds of NIGEL WEARNE & THE SPOOKS and the magnetic presence of blues, rock and folk hero DAMON SMITH.
Each year the Port Fairy Folk Festival brings thousands of music lovers to its seaside destination of Port Fairy over the March long weekend.
Justin Rudge, Port Fairy Folk Festival Program Director said the line-up will continue to grow and impress over the coming months.
'The Port Fairy Folk Festival is a destination for music lovers and musicians. Each year we receive thousands of applications from artists around the world wanting to play at our festival, which is a true honour. The 2024 event is shaping up to be a thrilling event musical feast with acts from right across the globe – some new, some nostalgic – there is certainly something for everyone,' said Justin.
With over 50% of tickets sold for the March long weekend event, festival lovers and fans are encouraged to scoop up tickets whilst they are still available and secure accommodation in Port Fairy or neighbouring areas. Shuttle buses will run between Port Fairy and Warrnambool across the long weekend.
Port Fairy Folk Festival takes place in Port Fairy, Victoria from 8 – 11 March 2024.